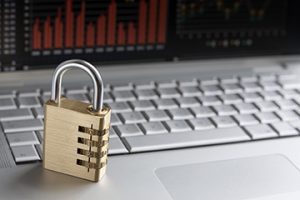 Massive new data breaches seem to show up in the headlines on a regular basis these days, leading many to worry about the safety of personal information. At First Internet Bank, we want you to know that we're constantly working to ensure the security of your accounts. As just one example, you may have noticed we now ask for additional identifying information when you contact us, adding an extra layer of safeguards to your accounts.
As we work on our end to keep you safe, we also want to arm you with information that can help you stop identity thieves from accessing your private data. With so much of your business and personal life connected online, it is especially important to protect the privacy of your digital information. Here are seven tips for safeguarding your identity and financial information.
 Monitor your accounts for any suspicious activity
Sign up for text and email notifications in online banking to alert you of potential fraudulent activity and unusually high balances.
If you notice unauthorized activity on any of your First Internet Bank accounts, please contact a Relationship Banker at 1-888­-873­-3424
Review your free credit report from AnnualCreditReport.com
You are entitled to this free service once each year to ensure there are no fraudulent accounts in your name.
If an error appears on your report, you will have to contact the credit reporting company in writing, describing the inaccurate information with supporting documents. For more specifics on disputes, please see this article from the Federal Trade Commission.
Use best practices for online passwords
Regularly change your passwords on financial and email accounts.
Make a password hard to guess by using a combination of uppercase and lowercase letters as well as numbers and special characters.
Practice online safety
Always use secure, password protected Wi-Fi networks when accessing financial information online.
Log out of all financial apps on your phone and clear all account information on the web when your transactions are completed.
Secure important identifying information
Keep your Social Security card, birth certificate and passport in a secure location (not your wallet or purse) when not in use.
When transmitting sensitive information electronically, double-check fax numbers or email addresses to ensure accuracy.
If you need to provide your Social Security number, birthdate or passport number in person, ask to do so in a private area.
Be mindful with your mailbox
Check your mailbox daily.
Place a hold on mail with usps.com when traveling, or have a trusted neighbor or family member collect your mail.
Always shred all discarded printed materials containing personal information.
Lighten your wallet
Reduce opportunities for theft by not carrying extra credit or debit cards in your wallet, especially when traveling.
If your card is lost or stolen, contact the issuing financial institution immediately.
Remember, no legitimate organization — including First Internet Bank — will ever call asking you to provide personal information over the phone. If you do receive a phone call requesting identifying information, ask the caller to send a written request; you can also use the phone number listed on the calling organization's official website to call back to verify the request.
If you have any questions or concerns, please contact a First Internet Bank Relationship Banker at bank@firstib.com or 1-888-873-3424.