We might be a little biased, but we think you'll love banking with First Internet Bank! Whether it's our competitive interest rates, innovative online and mobile banking tools or unparalleled support from some of the best bankers in the business, we think you're gonna love being a part of the First Internet Bank family. Keep reading to see what we're all about.

First Internet Bank's savings accounts pay competitive interest rates which means higher returns for you. And as always, our savings accounts are FDIC-insured. With our great rates, you can watch your money grow.

Let First Internet Bank remove the stress and confusion from getting a mortgage with our simple application process. As a leader in multi-state home lending, we work to ensure you get the right mortgage at the best rate — and often with a lower down payment than you'd expect!

Looking for a virtually risk-free savings option? Open a high-yield, FDIC-insured Certificate of Deposit (CD) with as little as $1,000 at First Internet Bank. You can take advantage of a predictable return with no maintenance fees and fixed rates.
Looking for something else?
Visit our site to see everything First Internet Bank has to offer.

Boost your savings
Lower overhead for us means a greater return on your savings

24/7 Always Online
Bank on your own terms — online 24/7

4.9 Star Rating
4.9 star rating on Bankrate and Consumer Affairs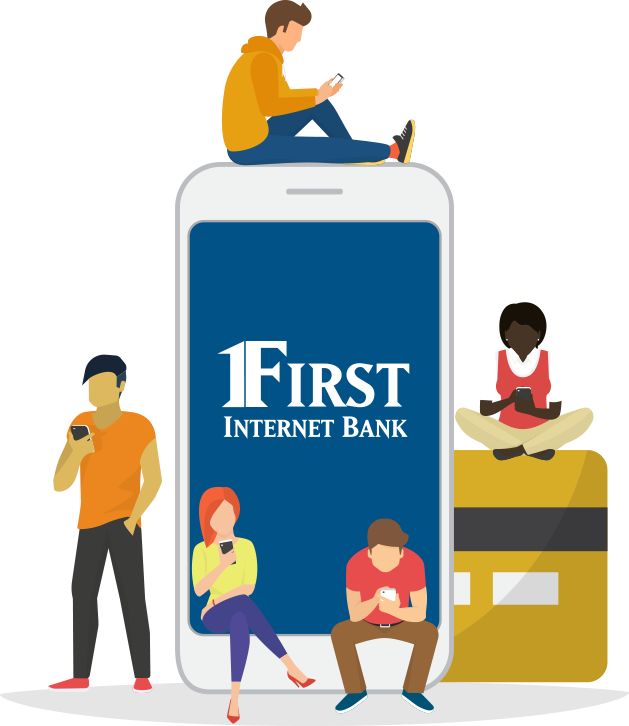 First Internet Bank delivers
We're here with the expertise, services and commitment to help you build on your dreams, big and small.​​​​​​​
Everything you need – nothing you don't

It's simple arithmetic: with no overhead burden from branches, we can give you better rates and lower fees. You do the math.

Convenient and comprehensive banking solutions

You can have it all, from personal banking and lending (high yield checking and savings accounts, plus debit and credit cards) to commercial banking and lending (deposit products, competitive lending options), all in one place for maximum convenience.

Branchless bank with a national reach

We do business and have customers in all 50 states, so we can help you manage your money from home, work, an airport terminal or anywhere in between. We go wherever life takes you.

A banking team like no other

At First Internet Bank, you'll find a remarkably diverse team unified by a singular vision: banking​ ​can ​be​ ​more.​ ​Do​ ​more. See how we deliver on that vision every day.
Don't just take our word for it
"I've been a customer with First Internet Bank since it started. Banking with you has been great. I love the convenience, and yet at the same time the personal service was there when I needed it. Thank you for being a great place to bank."- Maria A, Customer email
"I started using First Internet Bank in 2014 because of reading about their Free Checking account program. They were so quick and easy to setup and use online that I also opened a Free Savings account. They have free transfers between accounts, free online bill-paying, and an easy to use iScan check deposit system which allows me to simply scan my paycheck and upload the image in order to deposit it to my account. I have never had any problems with them and will probably use them forever."- Dusty H, DepositAccounts.com review