You've heard how stressful it is to buy a house. It's often a perfect storm of documents and deadlines, hurry up and wait, over and over — and over. But with First Internet Bank, it doesn't have to be that way!
While buying a home IS a major decision, and there are always deadlines and documents to be signed, it's our job to simplify the home-buying experience for you. We offer a straightforward online mortgage application process, and we'll pair you with the right mortgage to fit your needs. Our goal is simple: to get you to the closing table on time — with your nerves intact.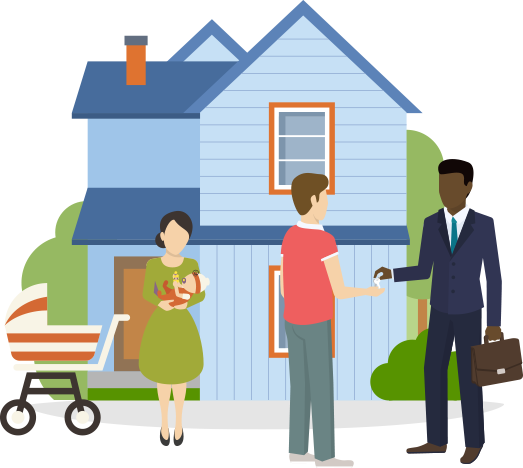 Talk to us about pre-approval
Getting pre-approved shows realtors and buyers that you're a serious, credible buyer, which can give you an advantage over other buyers interested in the same home.
To get started, simply apply online (anytime, anywhere, no appointment needed). Once we receive your application, we'll connect you to one of our experienced loan officers, who will help you choose the right loan option.
Don't just take our word for it
"My experience with everyone that was involved with my "first time home buying process" here at First Internet Bank was outstanding! The professionalism and assistance that was given made the process a breeze and would absolutely recommend friends and family! Thank you for all the hard work and efforts put forth in making this come true!"- Jacob, ConsumerAffairs Review
"The process went smoothly with personal interaction from First IB personnel at each step - application, document collection, review and final approval. The online document collection was very efficient, and the loan processor and staff were most attentive to make sure that nothing fell through."- Bob, Lending Tree Review
"Best experience getting a home loan ever. Easy downloads and quick results. People were very helpful with any questions I had. Rate was also better and their pricing was up front and understandable. The title people came to my house making signing very easy."- Loyd, Consumer Affairs Review
"This was my first experience buying a house, and First Internet Bank helped me to feel completely comfortable and confident throughout the entire process. They are friendly, efficient, and offered the best rates! I couldn't have asked for anything more and would recommend them in a heartbeat!"- Chelsae, Bankrate Review
"They made the mortgage process easy. They kept me well informed of the entire process, deadlines and documents. The is the easiest mortgage process I have ever had and it's my third. Highly recommend using First Internet Bank."- Sharon, Bankrate Review
Monday – Friday8:00 AM – 8:00 PM EST
Saturday9:00 AM – 4:00 PM EST
The mortgage process, step-by-step
5
6
7
8
Resources, insights and information