At First Internet Bank, we know you're always looking for ways to manage your finances more quickly, easily and conveniently. We are upgrading our bill pay screens (in personal online banking) on May 12, in an effort to provide you with a richer online experience. (That's marketing speak for "fewer clicks.")
Here's an overview of the changes you can expect:
Is there anything I should do before the change?
We are committed to minimizing any inconvenience that may come with this upgrade. All payees, pending payments, scheduled recurring payments, and your payment history will be available via the new user interface. If you have already scheduled payments, they will be made according to the pay dates you previously set.
For ease of use, we recommend you:
Shorten any payee account names that are longer than 25 characters, as they will be abbreviated in the new user interface.
Create unique nicknames for your payees. In the new user interface, payees will display alphabetically by nickname. (If you use our mobile app, this will be familiar to you, as we use the same sorting in our apps for iPhone, iPad, and Android phones and tablets.) It will be easier for you to distinguish your accounts at a glance if your nicknames are specific.
How much of a difference should I expect?
Change is hard, but we're doing everything we can to make this easy. Core functionality will remain the same. You will be able to schedule payments, set up eBills and reminders, and view your payment history. The screens and menus, however, will be different. For instance:  Paying bills used to be a four screen ordeal. We've shortened that to one screen.
Here's a sneak peak of the new user interface (click image for larger view):


I have a lot going on. Will you help me remember to pay my bills (and avoid late fees)?
Gladly! Let's talk automatic payments and why you should set them up, pronto!
If your payee issues eBills: Set up automatic payments and our system will initiate a payment as soon as you receive an eBill. You just have to specify the number of days in advance to pay the bill. You can also ask us to make the payment only if the amount due is less than a value you specify. (This is an easy way to detect unexpected charges that may show up on your bill!)
Special note for credit cards
If you receive eBills for your credit card, you can opt to create an automatic payment for the amount due (typically the minimum payment amount to avoid a late fee) or the account balance (typically payment in full).  If you want to pay something in between (for instance: your minimum payment plus $50), create one automatic payment for the amount due. Then, create a second automatic payment for $50.
If your payee does not issue eBills through our bill pay system: You can still create an automatic payment for the same amount each month. This is a good option when the payment amount doesn't vary (for instance: gym memberships, mortgage or rent payments).
To set an automatic payment, click Options below the name of the payee, then click Automatic Payment in the left sub-menu that appears.
One last way we can help: Our payment reminders will notify (nag) you through email as well as on the bill pay screens when an expected payment is coming due. Click Options below the name of the payee, then click Next due reminder.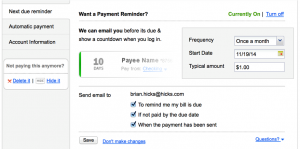 My spouse can't see my payments when he/she logs in to bill pay. We both paid the electric bill last month! Is there any other option?
When we assign a user ID for online and mobile banking, that creates a unique online/mobile banking experience, independent of other customers' experience. You may each set up your own payees that the other cannot see. (Of course, if you have a joint checking account, the other will see any payments after they post.)  To share bill pay access, we recommend one of you set up the payees and share your account access with the other. (In online banking, you can do this by going to Additional Services then Share access with others.)  With this bill pay upgrade, we're adding the ability to share bill pay in addition to the ability to view accounts and transfer funds internally (from one First Internet Bank account to another).
Sounds like a lot of great changes! Is there any functionality that I won't have after the upgrade?
If you used the payee grouping feature pre-upgrade, you will need to use payee nicknames post-upgrade. For instance, let's say you count yourself among the "Sandwich Generation" (still looking out for your kids, managing your own finances, and taking care of an aging parent) and you pay three electric bills each month to three different electricity providers. Set your payee nicknames up to begin with "Kids," "Mom" and "Self." Since the default sort order for the bill pay screen is alphabetically by nickname, your kids' payees will show up on top, followed by your parents' payees, followed by your own payees.